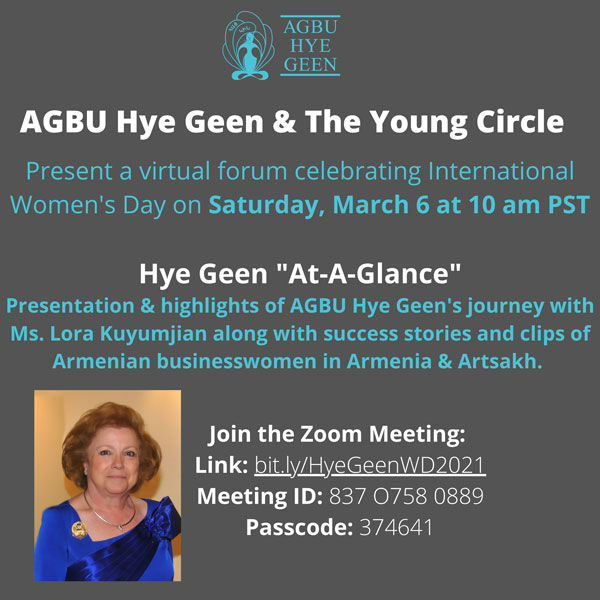 The AGBU Hye Geen & Young Circle is excited to host its next zoom forum this Saturday, March 6, 2021 to celebrate International Women's Day and to hear from award winning lifetime educator and guest, Ms. Lora Kuyumjian.  Ms. Kuyumjian will present and highlight the journey of AGBU Hye Geen; she is an ardent supporter of the AGBU Hye Geen movement.  In addition, AGBU Hye Geen members will also contribute to the honoring and investment of Armenian women.  Ms. Varteni Yerjanian will share success stories of Armenian businesswomen in Armenia and in Artsakh.  Finally, Ms. Nellie Yacoubian will introduce the organization's new website which better showcases AGBU Hye Geen TV, the AGBU Pregnant Women's Centers in Armenia and diaspora educational seminars held in Southern California.  This event will be moderated by Ms. Sevan Boghos – Deirbadrossian and Ms. Arvin Demirjian will review various projects done by AGBU Hye Geen.
We welcome you to attend via zoom this Saturday, March 6 at 10 AM for one hour:
Meeting ID:  837 0758 0889
Passcode: 374641
To donate, visit agbuhyegeen.org.